Let me tell you about Blueprint for Change...

Blueprint for Change teaches you how to narrow the gap
between where you are and where you want to be.
5 MODULES
Each module has multiple lessons with an instructional video included in each lesson

The videos range from a couple of minutes long to 20 minutes with approximately 4 hours of video included
Each lesson has reflective exercises which help you to find clarity on what and how to shift your life
DEVELOPMENT OF A PLAN
As you follow the lessons in Blueprint for Change, you will create your own Blueprint that outlines the steps you need to begin the journey of change
GUIDED INSTRUCTION
I guide you through the process and the exercises as I share my own stories and my clients' stories of positive change
A MONTHish LONG PROCESS (but you will have lifetime access)
Change doesn't happen overnight. It takes time. So does this process.
This is NOT a quick fix.
This is NOT 10 steps to quickly and easily achieve any goal
This is NOT the simple guide to achieving your dreams
This is...
A course that will, over time, help you understand why you haven't been able to haven't been able to affect change in the past and develop a strategic plan to move forward.
That will take time.
How much time?
That depends on you. It will take you hours to get through the material. Some of you will move through the exercises quickly, and others will want more time to reflect. There is no right length of time. You will have lifetime access to the course, as long I continue to offer it.
BONUS: PRIVATE FACEBOOK PAGE
Enrollment in Blueprint for Change gives you exclusive access to the private Blueprint for Change Facebook Group. For the first 6 weeks of the program I will be active in the group supporting you through the development of your plan.
Each week I will conduct Facebook Live Sessions with a portion of those live sessions Q/A. You will receive the help you need to develop your plan.
**********
You will discover the confidence to move forward
**********

You will finish the program with:
* an easy to remember system...
* that fits into your busy day....
* designed to get you over the humps... that will inevitably arise as you begin your journey of change.
Begin designing your life!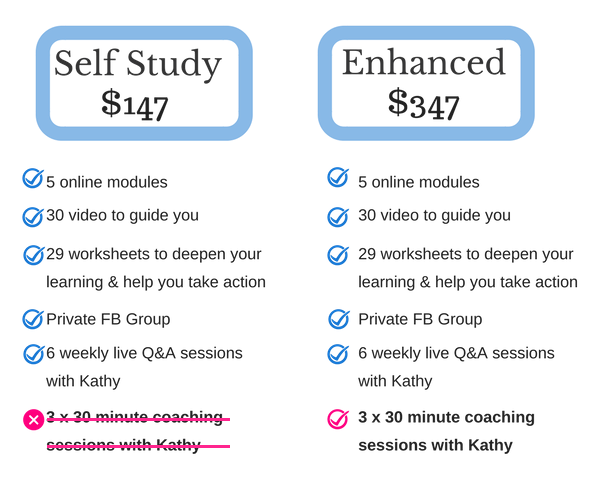 Blueprint For Change is not currently open for enrollment.
It runs several times each year. Sign up to be notified when you can enroll.